Beta

Smart Facebook Ads For Kickstarters
Boost Your Funding via our Ad Technology for Facebook Ads

We Charge 12% - 21% Only On Funds Directly Attributed To Our Efforts.
The Average Return Is 1:5 to 1:15 On Every Dollar You Invest With Us!
If The Return Goes Down To 1:4 We Stop The Ads.
Main terms of this program:
- Ad spent of $300 per day will be paid by the campaigner. - You only pay a fee (%) of what we bring-in. You don't pay (%) on funds we didn't bring-in.
see example
.
- You can increase the daily spent, or cancel anytime.
- No setup fee.
Example: Kickstarter Referral Table.
The campaigner pays a fee (%) only on the records marked in yellow.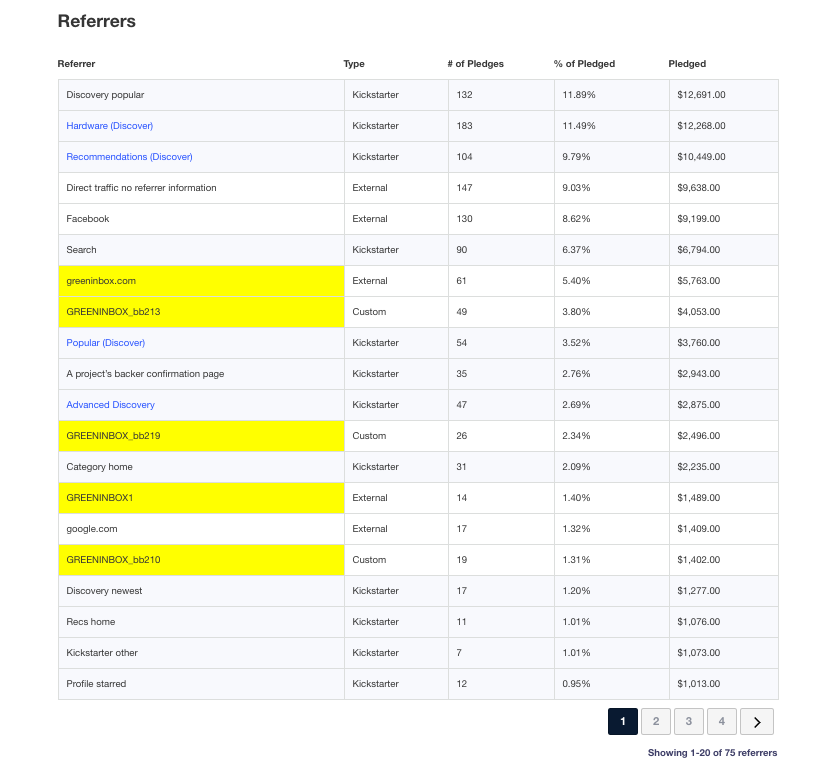 Terms & Conditions
Objective
1. The terms in this page reflects the agreement between (A) Green Inbox (i.e. marketing services) and the (B) campaigner, which is the official representative of the crowdfunding campaign (i.e. the "campaigner")
2. Green Inbox will promote the crowdfunding campaign on behalf of the campaigner.
Green Inbox will create and manage advertising campaigns on Facebook (and possibly other marketing channels like google adwords).
2.1 Media purchase will be made by the campaigner.
2.2 Green Inbox fee will be 21% of funds raised through Green Inbox (note: only funds related to Green Inbox are taken into account).
- Note: Overall fee goes down, as media budget increases.
Permissions
3. IP: Green Inbox can use the campaign's intellectual property (logo, slogan, brand name, etc.) for promotional and marketing purposes.
4. Data: Green Inbox can view and use all campaign-related data such as referrers, backer report, and Google analytics etc.
Termination
5. Both parties may terminate this contract at any given moment by an email notice. For the removal of doubt, Campaigner is still obligated to the
Payment
(section 6) and
Permissions
(section 4).
Payment
6. The campaigner agrees to pay (%) of the funds raised (by and with the help of Green Inbox).
Disclaimer
Terms may change, and can be different from campaign to campaign.
How do I join the program? Do I Qualify?
Please contact us by email so we can check if you qualify to join the program.
Please also include a link to your campaign in the email so we can review this.
You can contact us by using the email: ads [at] greeninbox.com.
End of Terms & Conditions
See Success Stories
Frequently asked questions
How can we track the funds raised through Green Inbox?
Green Inbox will use dedicated referral URLs so the campaigner can track the funds through the campaign dashboard. The campaigner pays commission only on the funds raised through Green Inbox (needless to say, campaigner does not pay commission on the rest of the funds).
Do you support Indiegogo or Indiegogo inDemand?
Yes. But the framework is a bit different. Feel free to reach out for a quote: partners [at] greeninbox.com.
Success stories and testimonials
Green Inbox Partner Program
Showing 158 Testimonials